About JUNE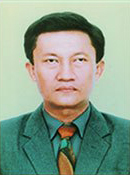 Professor Dr. Min Thein
(Ph.D, Adelaide University, Australia; AvH Humboldt Research Fellow, Germany)
Chairman of JUNE Company Ltd.,
Myanmar natural Spirulina lakes were discovered in 1984 by Professor Dr. Min Thein (Ph.D, Adelaide University, Australia; AvH Humboldt Research Fellow, Germany), Chairman of June Pharamaceutical Company Ltd., Spirulina grow naturally in the old volcanic crater lakes by the Chindwin river, Sagaing Division. The three crater lakes are Twyn Taung in Budalin Townships, Twyn Ma and Taung Pyauk in Kani Townships. The fourth, Ye Khar is a surface lake in Sagaing Township.At the time of discovery, Dr. Min Thein was a lecturer at Marine Science Department, Mawlamyine University. He was transferred to Ministry of Industry (1) in 1987 to leadthe industrialization project of Spirulina production and use in Myanmar until retirement in 2008. Spirulina products as nutritional supplement tablets, functional food, drinks and cosmetics (Provimin,Avamin, Biomin C, Min Wun Taung Thanakha cosmetic, Spirulina beer and health drink) were introduced to Myanmar market since1989. Shwe Awzar Spirulina biofertilizer is the most recent innovation. Technical cooperation with Professor Dr. Dr. Otto Pulz was established in 1997 and still active to date. Dr. Min Thein received the "Senior Lifetime Achievement Award 2011 in Microalgal Biotechnology", at the International Algae Congress, Berlin, Germany, for his scientific and industrial innovations and the worldwide promotion of microalgae....Read More
* Click over the image to view the large size
Latest Calendar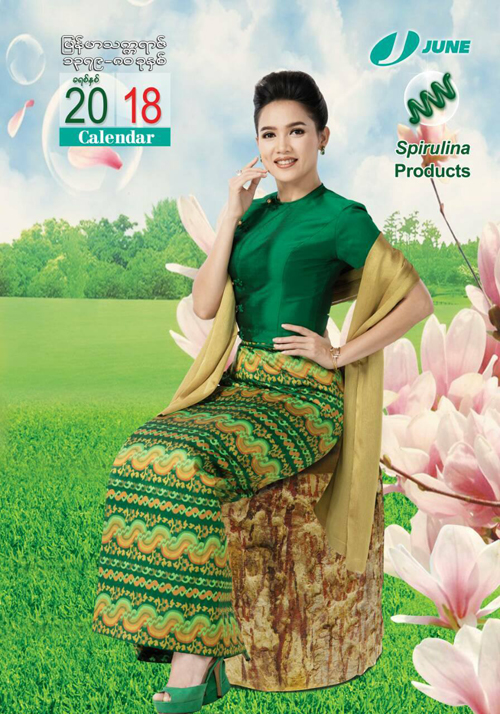 JUNE Calendar 2018
Download Calendar (Size: 10.3MB)
JUNE Pharmaceuticals Limited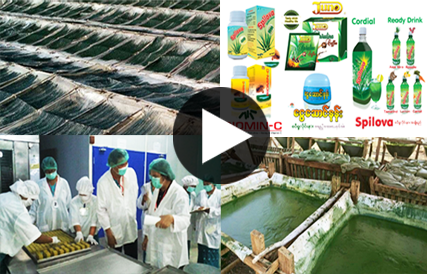 No. 80, Saya San Lane, Bahan Township Yangon, Myanmar. PO#11201.
+95 1 901 0080, +95 1 400 911,
+95 1 400 922
JUNE Pharmaceuticals Limited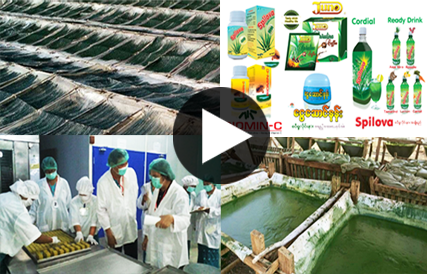 No. 80, Saya San Lane, Bahan Township Yangon, Myanmar. PO#11201.
+95 1 901 0080, +95 1 400 911,
+95 1 400 922
Our Awards & Recognitions
High Iron
High Protein
High Calcium
High Antioxidants
About Spirulina
It's blue-green, absurdly healthy but often overlooked or misunderstood; Spirulina may not be from Pandora, but it grows in our version of that magical moon, Hawaii, along with other exotic locations around the globe. This blue-green algae is a freshwater plant that is now one of the most researched, and alongside its cousin chlorella, most talked about superfoods today. Grown around the world from Mexico to Africa to even Hawaii, spirulina is renowned for its intense flavor and even more powerful nutrition profile! While you may have only seen it as an ingredient in your green superfood beverages, energy bars and natural supplements, spiralina benefits are so amazing that taken on a daily basis they could restore and revitalize your health! To date, there are nearly 1,200 peer-reviewed scientific articles evaluating its health benefits.Spirulina is also rich in all the B vitamins, all the electrolytes and other minerals you need to be healthy, including zinc and magnesium.In short, spirulina algae is your green dream and green team come true. Taking our spirulina tabs is the easiest and fastest way to be revived and energized. Even better, unlike energy drinks or protein drinks, spirulina tabs don't need to be served cold; unlike gels they don't cause stomach distress and unlike protein powders they don't need to be mixed. Nope, all you need to do with our ENERGYbits® or SKINNYbits® spriulina tabs is open your tin or bag, shake a handful into your mouth, swallow and you are done! Instant and enduring energy that fires up your brain and body. Guess that's why spirulina has been a favorite of Olympic Athletes and NASA astronauts for decades. It's your turn now....Read More
Spirulina Nutritional Analysis
Proteins: Blue-green algae, and spirulina in particular, have a primitive structure with few starch storage cellsand cell membrane proliferation, but rich amounts of ribosomes, the cellular bodies that manufacture protein. This particular arrangement of cellular components allows for rapid photosynthesis & formation of proteins. The lack of hard cellular walls assures that spirulina protein is rapidly and easily assimilated by consuming rganisms.Spirulina is approximately 65 to 71 percent protein- depending on strain & growing conditions. Spirulina's proteins are biologically complete- they provide all eight essential amino acids in the proper ratios. Most plant foods are not complete proteins because they usually lack one or more amino acids.